Leaders learn all through their life. Learning all through the life shapes a leader. A survey revealed that most CEOs read 60 books a year. Experimenting with that learning amplifies their accomplishments. Every book does not offer something entirely new. Yet they help leaders reflect on the past and refuel their future. At times, the most impressive lessons are indirect.
A disaster offers lessons that few library membership cards cannot, only if you are willing to introspect. Get ready to ruminate on the five leadership lessons from Covid-19. At the end of this article, you will realize that these lessons will stay years after the virus lost its significance.

Lesson 1 –Basic Hygiene is not to be compromised
Lesson 2 – Protect yourself from those who cause infection
Lesson 3- Panic brings down business stability
Lesson 4- Stay away from the crowd
Lesson 5- Size of the problem does not matter when the solution is known
1. Basic Hygiene is not to be compromised
Respecting human potential, internal customers being treated the same way as the external customers, and ethical business practices are the fundamental hygiene factors for any business. The impact isn't seen immediately when the leadership ignores cultural cues.
Will you believe if I say that the hygiene factors have rescued organizations from a deep crisis?
Alcoa was a global leader in aluminium manufacturing. O'Neil took on the role to head the financially troubled Alcoa. What could be a CEO's priority? O'Neil did not place his priority on the operating margins, quality or the client portfolio. He focused on a keystone habit – employee safety. This focus changed the culture top-down and led to numerous changes in practices. Safety eventually led to the turn-around of Alcoa. When Alcoa's culture shifted, the fortunes made an upswing.
Anne Mulcahy who bailed Xerox from its existential crisis did not jump into looking into product lines, operating profits or markets. She worked on a fundamental corporate habit- listening to employees (Does the Xerox story interest you? Would you like to read more? You can find it in 'Chapter 5.1- Exchange Currency For Time', from 'Father Of Your Team')
2. Protect yourself from those who cause infection
Like the virus, rumors are invisible. It is cumbersome to trace their origin and travel history. Do you come across people spreading false news in your organization? Do they talk to you often about it? If so be ready for this. You may be labeled and quarantined one day. Employees are averse to leaders who listen to unverifiable information.
Rogers adoption curve claims that the Late Majority and Laggards category accounts for 50%. It is not easy to convince staff and customers who resist change.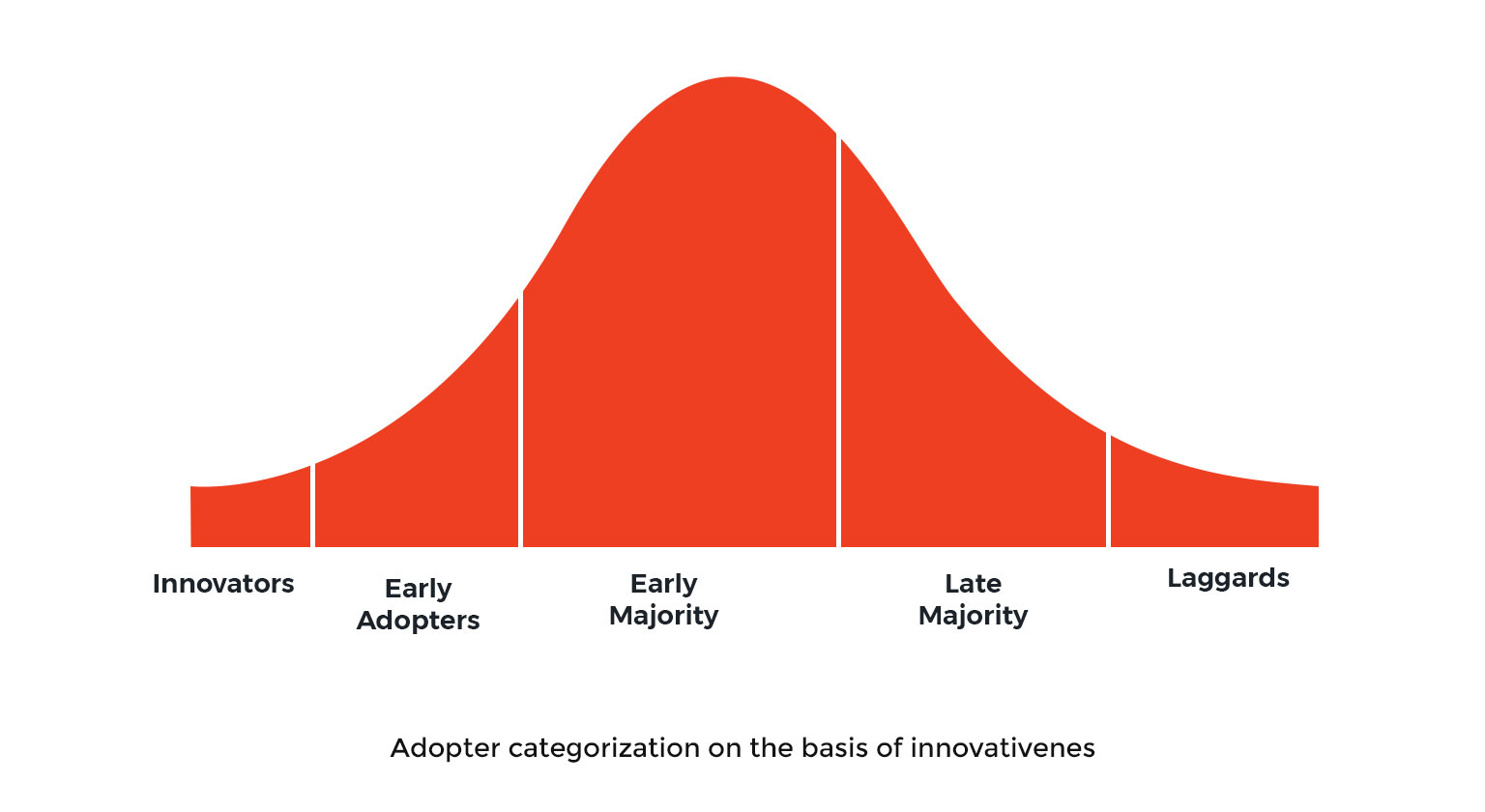 Leaders can lose hope and abandon a change when they are not emotionally charged to handle these categories. They can become a victim of change execution and miss a never-again opportunity to prove their mettle.
3. Panic brings down business stability
Why do news channels get this viewership today? Why is there panic around Covid-19? The answer is simple- Survival is in question. Something invisible is all set to destroy our existence.
Every organization faces a need to reinvent. This need may not be seen, yet it always exists. Organizations that do not think on their own, panic when a new entrant innovates and threatens their existence. Reacting to each move of the competitor or mimicking their strategy can sometimes make the organization an 'Also-Ran' and many times push it out of the race.
Rewind your mind tapes to the 1980s. Blockbuster was a leader in video rental. It was valued at $3Bn with 84000 employees and 6000 stores. It almost became a weekend ritual for Americans to drop by the Blockbuster store to pick up their favorite videos and watch at the convenience of their homes. The Blockbuster seemed to have a happy ending like the movie climax. Yes, the cinematic formula made its mark. There was a twist in the interval. Hollywood started selling movies to the public, at the same time it was made available to the rental stores. Blockbuster had to do something different for a happy ending. Three CEOs got the signal. One of them transformed Blockbuster to a retail store that offered a great shopping experience. The repositioning did not work. Blockbuster panicked. Low priced DVD players, satellite television, online rentals, and online streaming platforms came one after another in the racy second half. The agility of Netflix was too much to catch up on the pace with. Blockbuster reacted to the moves of Netflix at times, by imitating the competitor. The panic was all around. It was time for the climax. The last-ever Blockbuster movie was rented on November 9, 2013. Interestingly the movie title was 'This is the End'!
'Taking risks is the way to grow. Else, growth will be at risk'
– Father of Your Team
Click here for your exclusive collection of stunning quotes.
4. Stay away from the crowd
Social distancing has become a proven practice to stay healthy.
Leaders can create niche customers through Blue Ocean Strategy, than through competitive differentiation. As per the Blue Ocean strategy, the best way to beat the competition is to make the competition irrelevant. Untapped market space and demand creation are the mantras.
It was 2008. The Industrial Design Conference in SanFrancisco attracted a huge number of visitors. Bryan Chesky and Joe Gebbia found the hotels in Sanfrancisco overcrowded. They had a brainwave. "Why not rent out one room in our apartment for one night for the visitors?", they deliberated. They bought 3 airbeds immediately, took photos of the room, created a website that day, and made an offer with breakfast. Their effort in creating www.airbedandbreakfast.com paid off with 3 guests staying there on day one. Success!
They decided to cater to the crowd by staying away from the crowd. Bryan and Joe ventured into aggregating unutilized space at people's homes for travelers who could not afford a hotel. The strategy paid off!
airbnb.com is now valued at over $26bn!
5. Size of the problem does not matter when the solution is known
"Will the virus spread in the air? How is it possible that there are no symptoms? " – these are not the problems. The predicament is that we are not aware of the solution.
Uncertainty is part of the business. Are leaders navigating amidst uncertainty? Are we making rapid strides and becoming the pioneer or do we want to be an 'also-ran'? Are we open to listening to someone who has a solution?
In the age of digital distribution, piracy and mobile users sharing songs on ShareIt and Bluetooth, the going was tough for the music album producers and sound recording companies. They were losing their royalty. Millions of people were listening to their music. Yet, the recording companies or the musicians didn't earn a cent. Piracy was lighting their pyre. There was no solution in sight. No one could reverse it. Two young entrepreneurs Daniel Ek and Martin Lorentzon came up with a bright idea. They proposed it to several music companies. They pleaded the companies to host their tracks on their platform. The mess and their mistrust were such that the companies refused to believe in their messiahs.
The pursuit didn't pay off for many weeks. "How do we convince our clients, when they can't understand our solution?", the founders grappled. The enthusiastic young men had to do something different to prove themselves, even if it was against their wish. "If they don't understand what we offer, why not show them who we are?", this question echoed in their minds. They uploaded tracks from a recording company to their platform, without seeking their permission. They got that client appointment later. A demo of how music is presented in their application worked like magic. That music company was thrilled with the overall experience. They were in a spot until they realized what Spotify could do for them!
'Change is the end result of all true learning', said Leo Buscaglia. This Covid-19 tense situation will change for sure. Until then, let us truly learn what matters.
– Venkat Kumaresan
Author of 'Father Of Your Team', the World's First Book on implementing Paternalistic leadership
www.authorvenkat.com