March signifies the start of a hot summer. While the body needs to keep cool to beat the heat, don't forget to keep your mind cool and calm too!
This is not just for the sake of your happiness and that of those around you. A cool attitude also helps you adapt to any changes in your life. After all, even an engine that's been running a while gets overheated and requires a coolant to go a long way.
You will come across this theme of staying cool in most sections of this edition of Victory Vitamin. Let's begin.
Best wishes,
Venkat
What's going on?
1. Putting my literary wits on Storywits
Indian startups are set to contribute to 4-5% of the GDP in the next 3 to 5 years. But it's hardly a conducive environment for small business owners.
When you move around your city, you will notice big chain brands dominating tea shops, salons and laundry shops. It's very difficult to compete with the glitzy ambiance of these heavily-funded chain stores, and even 5 such stores can push out hundreds of small business owners altogether.
I recently brought out the need to protect small businesses through a poem, 'Is your expense at their expense?' I did not imagine this would strike a chord with the Global literary community until this poem was chosen to be published by Storywits – Greece's first digital interactive magazine. What's more, it became the cover page feature!
It just goes to show – sometimes it is the little observations that bring big recognition.
2. A guide to being a guide

Today, short of your lost car keys or spectacles, Google can help you find almost anything. We all use Google but how many of us give back? 5 years ago, I decided to change this, to better the experience for everybody.
Being a curious wanderer and an enthusiastic traveller, I started contributing Google map reviews whenever I visited any new place. Of course, I never expected to get anything in return, but slowly I became a Level 6 guide. 3 years back, I was surprised with a gift from Google. I just received a notification that another gift is on its way. Rewards aside, it's a beautiful feeling knowing that I am guiding thousands of strangers in some way. Try it too – take a minute to post a review. It's a unique little joy.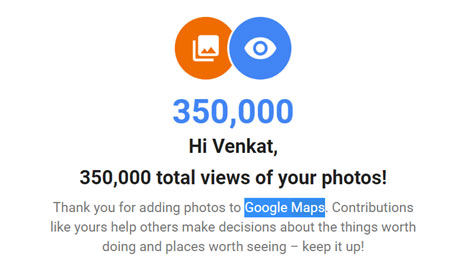 What's coming up?
1. Tick, tock…TEDx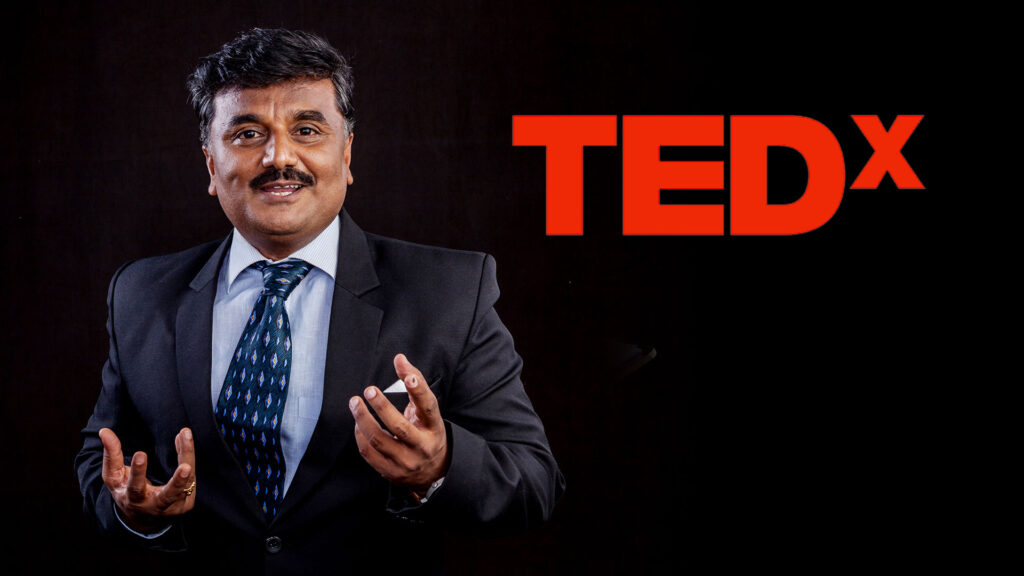 Last month, I announced my upcoming debut on the TEDx platform. The date is drawing near – preparations are on in full swing, and come May, I will be ready to present.
Until then, let me share some of my tips and learnings along the way. In the last edition, I had shared a trick for memorising long speeches. Here are other tips that worked for me:
Place the printout of script in a button lock plastic file, so that it remains intact.
Read the script before you go to bed and read it again first thing in the morning. This improves retention of your material.
Make the script your companion – be it on a morning walk or on the drive to the office, the script is always with me.
Think of any random paragraph from the script and mentally rehearse from there. Do not begin from the beginning.
When you are reading aloud, memorise it with associated body language movements.
Try these – I hope these prove helpful for those of you who might be planning to present on this or any other platform.
2. Taking a U-turn on a lost opportunity
'We'd love for you to deliver a welcome address to M. Subramanian, our Hon'ble Health Minister at our upcoming volleyball tournament.' Reagan, my friend from the gym, said this to me with a smile.
I was startled. I was not a resident of that locality. That volleyball tournament was quite well-known, with this being its 18th year. And with such a senior minister there, it would draw wide media attention. I did not want to take away the honour from some other hard-working resident – nor did I want Reagan (who is one of the organisers) to get into trouble for his decision to bring in an outsider.
But Reagan was certain about the offer. 'We see you as one of us,' he said. The others with him nodded in agreement. I accepted the honour.
Over the next few days, I started preparing for this in earnest. After much research, I wrote out a 2.5 minute speech. I rehearsed it in front of my daughter and was all excited.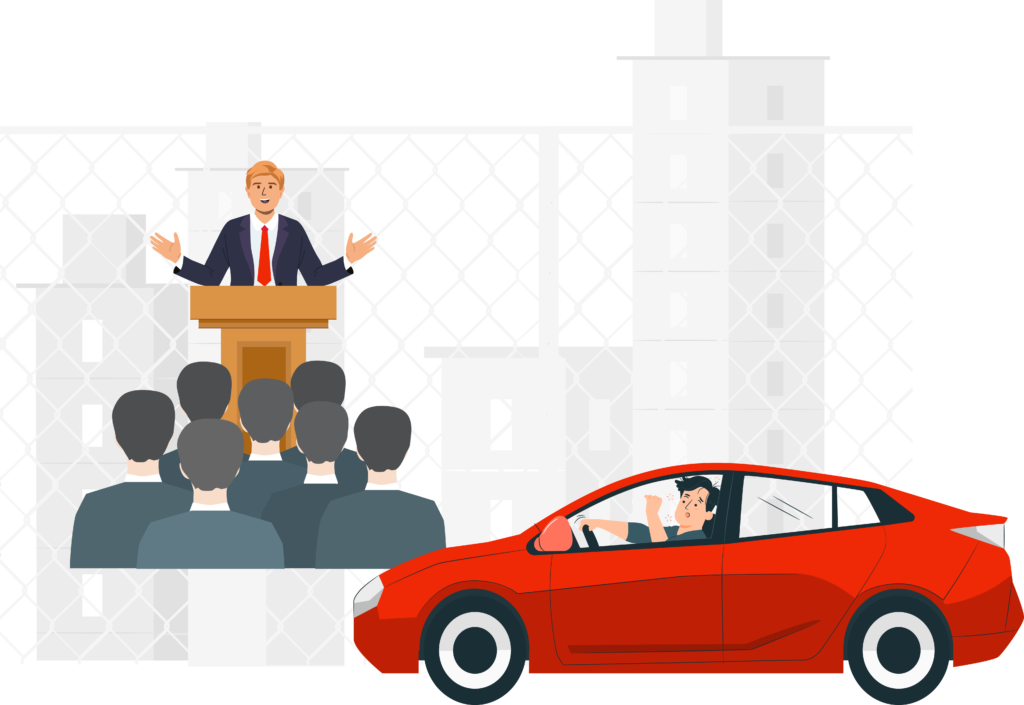 Finally the day arrived. The minister arrived too, but much earlier than expected! He had a hospital visit in the vicinity, after which he decided to visit the volleyball tournament at noon, instead of 8 PM as planned.
Reagan called to let me know the change in plans but as I was driving, I missed his call. By the time I got home and could reach that locality, the minister had left. Reagan, who is a large-hearted man, felt more disappointed than I did!
I gave him a hug and cheered him up by saying, 'You did everything keeping my interest in mind. This is outside your control.  Life is teaching us a new lesson. I will make the most of it.'
As I was driving back, I got to thinking. I had prepared the script with so much punch, I didn't want to let it go to waste. Until I sat down to write this newsletter and realised I have so many other VIPs I could deliver this to.
So if you are interested to check out my talk, please let me know below and I will make sure you receive it this month .
Poll: Do you want me to send you my speech?
Yes, I'd love it
Not this time, thanks
Here we can do a poll rather than asking people to email. Simply clicking yes would be easier for readers
Everyday humour
If laughter is the best medicine, I consider myself a self-prescribed practitioner of humour. I can tell you that it works! I'm consciously trying to bring out humour as my first reaction in tricky situations. See the moments they've led to.
1. The state of a status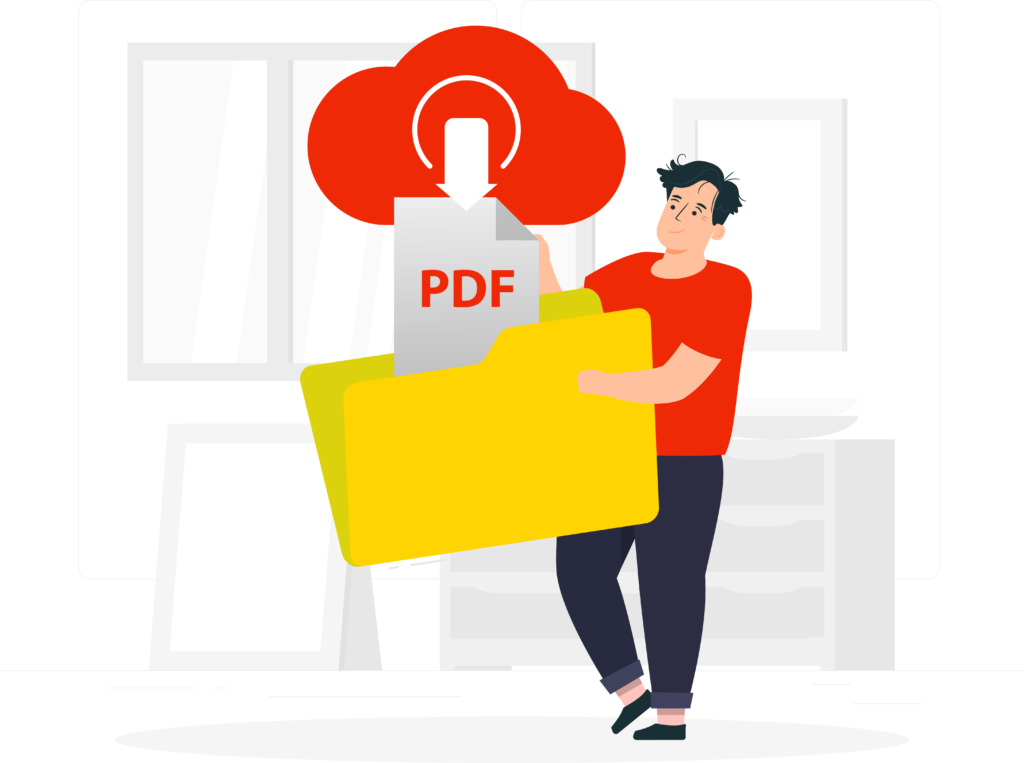 With contacts and groups increasing by the day, it takes me a lot of time to catch up with WhatsApp messages on busy days. While I spend more time responding to personal messages, I have all but stopped opening forwards and videos.
I thought I was doing well with this strategy – but turns out, I was missing something important. What I didn't know was that many people have started using the status feature to convey news and updates!
I was talking to a friend on the phone the other day and I asked how her son's college was going. She was surprised.
She said, 'He finished college a few days back. I thought you knew – didn't you see my status update?'
I hadn't! But I did not want her to think I wasn't taking interest in her. So I quipped, 'With friends, I don't see status!'
We had a hearty laugh.
2. Holi hai?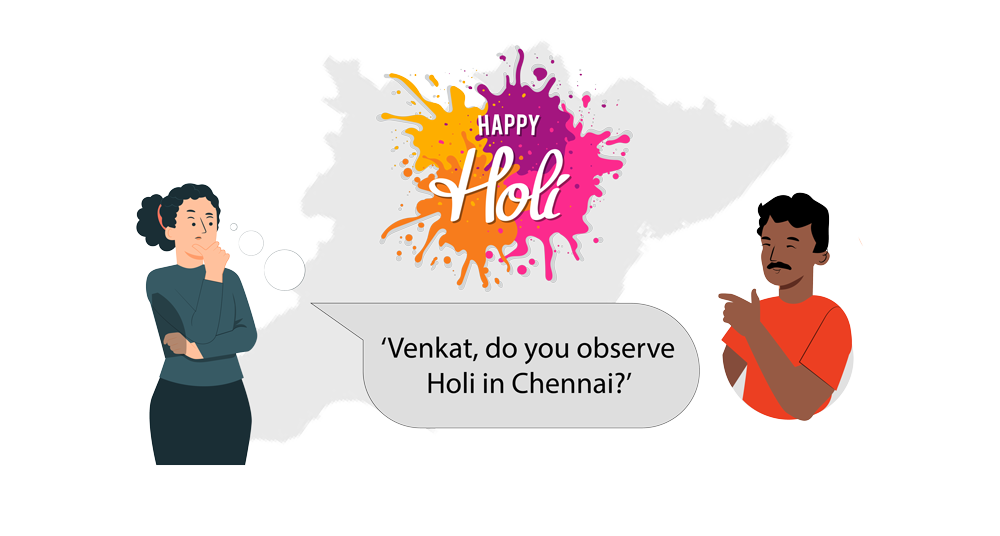 India is diverse not just in the way festivals are celebrated – but also in the way they are not! Holi, for instance, is a loud, vibrant, enthusiastic 2-day festival across north India. In Chennai where I live, it is just another day.
Smita, a North Indian colleague of mine asked me about it. She said, 'Venkat, do you observe Holi in Chennai?'
'Oh yes, we OBSERVE all right,' I replied. 'A person splashed with colours is such an unusual sight around here, that if we see someone like that, all eyes are on them. The whole street observes!'
She got what I meant, and we had a good laugh over this colourful wordplay.
What did I do differently?
1. Campus connections
I was recently invited to speak at the Department of English and Foreign Languages in SRM Ramapuram campus.
I had prepared a nice speech. On the day, I reached the venue a bit early and was asked to wait in the air-conditioned lobby. On one side, I noticed 2 wall-mounted LED TVs, displaying their placement track records. I was amazed to see the pay packages some students had landed – they were in the range of 22 lakhs – 40 lakhs per annum!
I realised something important right then. Today, students from any elite college can get a campus offer that would earn them more than their instructors in their first jobs. These students would not be impressed by the achievements, status or standing of any speaker who comes their way. They would only listen if they are truly convinced by the speaker's approach. Here are a few ways I modified my talk.
⚡ I started with a bit of self-deprecating humour to grab their attention.
⚡ I leaned into humility rather than focussing on my achievements. I said, 'I truly believe that if I was born between 2002 and 2004, I'd be sitting where you are today. And if you were born in 1975, you'd have been on this stage. Who is up on the stage has a lot to do with simply which stage of life they're in.'
⚡ I tailored my content to suit the audience in front of me. About 60% of the students were Tamil speakers, so I made sure to pepper some words and phrases in Tamil to connect better with them.
And it worked. Here's what I noticed:
🎯 After the session, scores of students came forward to interact with me and take selfies (many of them were top scorers who had landed the lucrative jobs).
🎯 Lots of them showed interest in connecting with me further. They took down my phone number and connected with me on Instagram.
🎯 A majority of these students were non-Tamil speakers from north India. Even though I had included Tamil phrases in my speech, they were able to connect with me. This proved that sometimes, intent matters more than language.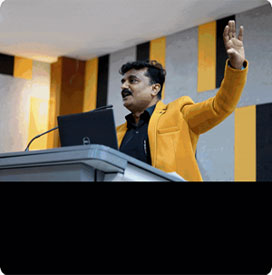 You tell me!
Poll question:
When I speak with managers across organisations, most of them have one major pain-point in common – internal politics. I'm sure you will agree that leaders being insensitive to the larger objective and treating employees unfairly has a terrible impact on the organisation's ability to achieve.
But what about the solution? Do you think 360-degree appraisals are a way to tackle this?
YES
NO
*The result of February's poll is here!*
Do you think that there should be a mandatory service for every leader in the HR team for at least 6 months?
Yes – 1310
No – 267
My take on Top topics
1. Women's Day – Being fairer to the fairer sex
Just as today Christmas is celebrated more in malls than in churches, Women's Day has become a corporate themed celebration.
I see many companies making empty gestures like giving chocolates or conducting games for women employees, without improving workplace policies. (Kudos to the MNCs who are actually making an effort to bring back women employees after a break or trying to uphold the diversity ratio across all levels.)
Instances of disparity are all around us, if we only care to see. I recently went to an upcoming snacks outlet that opens as early as 4:30 AM – and learned from a female employee that she is paid Rs.10,000 while male staff members are paid Rs.12,000 per month for the same job.
Another time, an aunt who works in a packaging company told me, 'We have more than 20 female staff. But so many of our names don't feature in the employee register shown to regulatory bodies. The management shows a lower employee count so they won't have to pay PF for us.'
These instances are even more pronounced in the unorganised sectors. So let's ask ourselves – when we wish a Happy Women's Day, is it really so?
I recommend:
Book:  Think Straight by Darius Foroux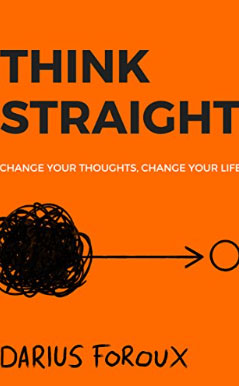 Why I loved it: A question posed at the right time could save us from a lot of trouble – in career, finance or life. But most of us are used to making decisions based on our core assumptions, without asking a few rational questions first. This book helps change this. I particularly appreciated this thought, from one of the chapters:
"When faced with decisions, I ask myself: "Will the outcome of a decision change the way I live?" If you ask that yourself consistently, you'll find that you automatically filter out useless information and only make decisions that have an actual impact on the outcome of your life."
2. Video/podcast: 5 life lessons from the Indian Army life
Why I loved it: Ever noticed how people who fret about little things often don't achieve larger objectives? That's because wasting energy on insignificant things keeps you from becoming a person of significance. This lesson, along with 4 others, are brought out clearly through stories by Captain Raghuram from the Indian Army. His narration is loaded with humour, making this video enjoyable as well as educational.
3. Movie: Fall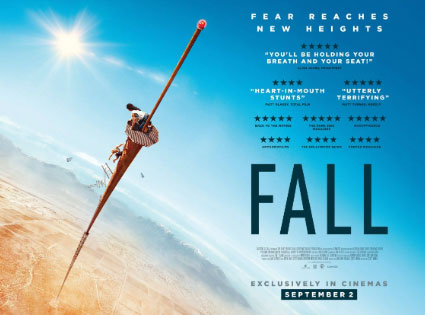 Why I loved it: Many of us do not live life the way we want due to insecurities or 'the fear of falling'. We did not have such fears in our childhood – most of these were developed over time.
This movie is about an adventurous climber who develops crippling depression after her lover met with a fatal accident on a climb. Her friend wishes to help her, and promises to take her to the highest TV tower in a remote area, so that the climber can regain her fearlessness and throw her lover's ashes from the tower as a last tribute.
They climb the tower together, but the rusted old ladder falls down. The story is about how the climber proves herself at the height of this crisis. The conversations that the protagonist has with her friend will appeal to you to experiment with your closest decisions wisely and fearlessly.
Join me in…
Paying tribute to your teachers
By now, I have submitted lots of poems and articles to various publications. There's something common across all of those endeavours. At the very end, right before submitting my work, I send it to Ms. Meena Suresh.
Who is she? She's the same person who has been guiding my writing since childhood – my English teacher from school! She's an admirable woman, who eventually became the Principal of the school, and through the years have always kept her students' interests at heart. Today, she trains children around the world.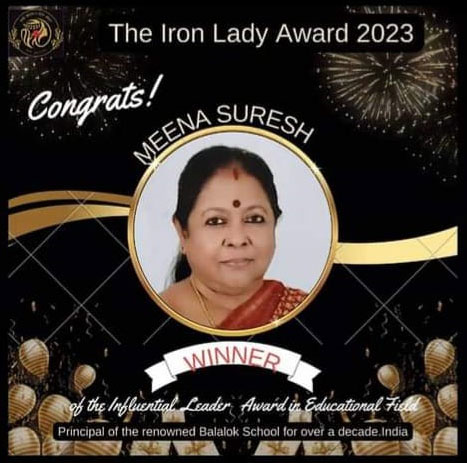 When I came across the 'Iron Lady Award' – an international award by Edufam and ACE International, Singapore – Ms. Suresh came to mind.
I wanted to surprise her so I coordinated with her daughter-in-law to gather the necessary details and submitted her nomination to the jury. Imagine her joy (and mine) when the jury named her the winner!
Our teachers have changed our future in so many, uncountable ways. This month, I invite you to think of your own way to make a difference to your teachers.